NEFF Publications
CLT in New England
With support from the USDA Forest Service, NEFF completed an analysis of the potential for a New England cross-laminated timber (CLT) mill. The analysis looked at the suitability of New England tree species, their availability, the potential cost of New England produced CLT, and likely returns on investment from a CLT mill. Download the analysis.
Storing More Carbon by Improving Forest Management
"Storing More Carbon by Improving Forest Management in the Acadian Forest of New England, USA" is NEFF's first original research paper to be published in a peer-reviewed scientific journal. The paper, published in the journal Forests, built on NEFF's previous forest modeling and financial analysis to quantify the climate benefits of switching from conventional forest management to Exemplary Forestry. Download the paper.
Mass Timber Dialogue Report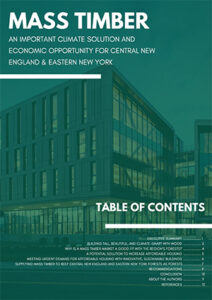 New England Forestry Foundation has participated in the Mass Timber Dialogue since it began in fall 2020; this collaborative effort is convened by the State of Massachusetts, the Climate and Land Use Alliance (CLUA), and ClimateWorks Foundation, and is facilitated by the Meridian Institute. It investigates how mass timber construction, including but not limited to CLT, could be effectively increased across the New England region to help mitigate climate change.
The group released a 2021 report that acknowledges full optimization of climate benefits depends on the implementation of climate-smart forestry practices like NEFF's Exemplary Forestry standards. The report explains the benefits of mass timber, its current status, obstacles to increasing its use, and policy recommendations for actions that could be taken to increase its use.
The essence of the report was presented to Commissioners of key state agencies across the region and was favorably received. NEFF and partners are now advocating for implementation of its recommendations. Read and download the report, and visit masstimberregionaldialogue.com for more information.
Forest Carbon for Commercial Landowners Report
New England Forestry Foundation (NEFF) has contributed to an effort to understand the role of forest management in increasing carbon storage in New England's working forests as part of the Forest Carbon for Commercial Landowners (FCCL) Initiative, a broad coalition of large forest landowners, conservationists, nonprofit organizations, scientists, and economists.
The FCCL initiative came together to determine whether northern Maine's commercial forestlands could sequester more carbon through improved forest management without reducing harvest, and, if so, how much it might cost to incentivize landowners to implement. The initiative commissioned a report from the University of Maine and other researchers and released it in March 2023.
FCCL Report, High-Resolution File | FCCL Report, Low-Resolution File | FCCL Appendices