NEFF Publications
CLT in New England
With support from the USDA Forest Service, NEFF completed an analysis of the potential for a New England cross-laminated timber (CLT) mill. The analysis looked at the suitability of New England tree species, their availability, the potential cost of New England produced CLT, and likely returns on investment from a CLT mill. Download the analysis.
"A Systems Approach" Essay
In his September 2020 essay "Forests, Forestry, Cities and Mitigating Climate Change: A Systems Approach," NEFF Executive Director Bob Perschel explains our best path forward if we want to maximize New England forests' ability to mitigate climate change—and lays out the systemic challenges that stand in our way. Download the essay.
Mass Timber Dialogue Report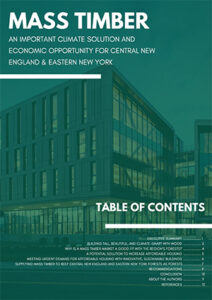 New England Forestry Foundation has participated in the Mass Timber Dialogue since it began in fall 2020; this collaborative effort is convened by the State of Massachusetts, the Climate and Land Use Alliance (CLUA), and ClimateWorks Foundation, and is facilitated by the Meridian Institute. It investigates how mass timber construction, including but not limited to CLT, could be effectively increased across the New England region to help mitigate climate change.
The group released a 2021 report that acknowledges full optimization of climate benefits depends on the implementation of climate-smart forestry practices like NEFF's Exemplary Forestry standards. The report explains the benefits of mass timber, its current status, obstacles to increasing its use, and policy recommendations for actions that could be taken to increase its use.
The essence of the report was presented to Commissioners of key state agencies across the region and was favorably received. NEFF and partners are now advocating for implementation of its recommendations. Read and download the report, and visit masstimberregionaldialogue.com for more information.
New England Forests: The Path to Sustainability
Trees are central to the quality of life and the economic competitiveness of the region. This report reveals forests' existing contributions and future potential to support New Englanders' lives and lifestyle. It puts forward the first steps we collectively need to take to seize that potential to ensure a sustainable future. Click here to download a copy of New England Forests: The Path to Sustainability.
To learn more about the data supporting each forest benefit, we encourage you to explore the Technical Reports that correspond with each chapter. If you have further questions about the information and data presented, please contact Alec Giffen at agiffen@newenglandforestry.org.